Buying a kayak for the first time can be an intimidating experience. With so many different models that vary in size, weight, design and features, it's hard to know which is the best kayak for beginners.
Your first kayak purchase doesn't have to be complicated, though! There are numerous types of kayaks out there with an easy learning curve and entry-level price perfect for newcomers. Better yet, "beginner-friendly" kayaks don't necessarily mean lower quality! Your first kayak can serve you well long after you're no longer considered a beginner.
As your boating experts, we've collected and reviewed some of the models that are best suited for new kayakers. We've written our own in-depth reviews of each model, as well as a handy guide to choosing between them!
Keep reading to find the perfect type of kayak for your adventures!
Featured Beginner Kayak – Sea Eagle 370

SE 370 QuikSail Inflatable Kayaks Package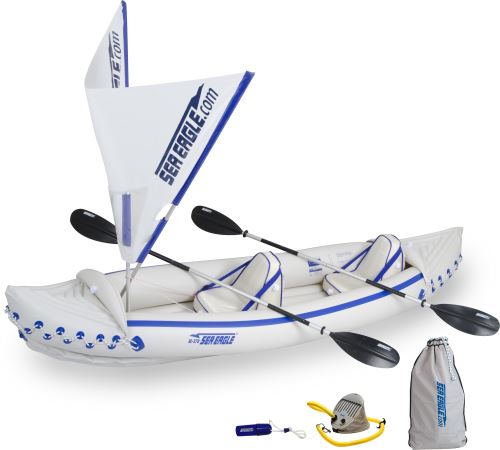 This affordable inflatable kayak is as lightweight and portable as it gets, yet still remarkably stable and durable. Thats what makes it one of the top kayaks for beginners. It weighs just 32 lbs. and packs down small enough to fit in the smallest car trunk. Don't let the light weight fool you. It's a rugged kayak rated to hold 3 people or 650 lbs. However, it's best-suited space wise to accommodate two persons.
Most easily fits two adults.
Top Fishing Kayaks for Beginners
Our Rating: 5.0
Popularity: Low
Best Recreational Kayak for Beginners
Our Rating: 4.3
Popularity: Low
Top Tandem Kayak for Beginners
Ocean Kayak 12
Our Rating: 4.5
Popularity: Low
What makes a great first kayak?
We've put a lot of thought into the features and characteristics that make a vessel friendly to newcomers. We considered the boats that were easiest to use when we were starting out, and took a look at which models are most popular among rental companies and instructional institutions. Then, we started breaking down the things they all had in common:
The best kayaks for beginners are stable, forgiving, and rugged enough to handle the learning curve. They should be less streamlined than an expert vessel, and they should have reinforced hulls which can handle being knocked about.
Overall, stability and durability are two features we looked at closely in our analysis, in order to pin down which models were most forgiving of novice mistakes.
We also looked at affordability and ease-of-use to determine which models truly deserve the label of "starter kayaks." After all, accessibility is half the battle!
Of course, each new kayaker has different goals. Some want to go for long jaunts, while others want to paddle easily out to a picnic destination and take it easy.
The "best" starter kayak for you will depend on how you plan to use it. As such, we've organized our picks into corresponding categories: fishing, recreation and tandem.
Now that you're thinking about what makes a good first boat, and keeping your goals in mind, let's meet our favorites:
Perception Pescador Pro 12
Our Guide to the Best Kayaks for Beginners
1. Perception Pescador Pro
Quick take: A high-quality, versatle fishing kayak sold at an affordable price.
The Pescador is a great example of a beginner-friendly kayak that doesn't skimp on quality. With a stable design, plenty of storage space, and an affordable price, this is a kayak beloved by both expert and novice anglers. We suggest this Pro version, since it comes with a much better seat and some premium storage options, compared to the standard model.
We suggest it to folks who are starting out with boating and know they want to be able to fish. It's also an affordable entry point for those who want to kayak absolutely everywhere. This is as versatile as anything on the market, and has as much to offer weekend warriors as it does to fishers!
It's actually a rebranded version of a older model—the Wilderness Systems Tarpon 120—but the Pescador is sold at half the cost. The Pescador allows beginners to enjoy a higher level of quality without investing an arm and a leg.
Pros:
As mentioned above, the Pescador allows beginners to experience the quality of a high-end kayak at an entry-level price. For what you're spending, you're getting something that lasts for years and gives you lots of room to grow.
It's also a very versatile kayak, allowing beginners to experience kayaking in a wide variety of environments. You can take a sit-on-top model like this absolutely anywhere, whereas the Sun Dolphin below isn't appropriate for sea kayaking or whitewater conditions.
Folks who started on this one said it was a great model for building confidence, since it allows some room for error without becoming unstable. One key reason is that it's easy to steer in choppier conditions as well as smooth waters. They found that it allowed them to practice and develop technique without ever feeling risky or unsafe.
There's plenty of room to store your gear in the rear, center and front storage hatch areas. The Pescador 12 also comes with one Scotty mount, and one flush mount rod holder to hold your fishing rods. This one is absolutely ideal for new hands who want to be able to fish from their vessel!
 The body shape of the Pescador is designed for good stability, maneuverability and tracking ("tracking" refers to how well the boat can travel in a straight line without veering off to one side). The Pescador's hull shape delivers balanced performance—it's stable without being slow, and easy to maneuver while still tracking well.
The resulting smooth, steady ride is by far the most impressive aspect of the design. It allows beginners to grow and develop safely in a variety of environments. That teaches you how to deal with each variation in conditions, without getting yourself into danger.
The Pescador 12 really stands out among other fishing kayaks in terms of tracking and maneuverability. It's also very stable, so it allows beginners to get out on the water without fear of tipping.
Even though the Pescador 12 is smaller than most fishing kayaks, at 12 feet in length, there's plenty of room and cargo space included. There are hatches to store your gear in the bow, stern and center of the kayak, as well as a bungeed well in the front.
There's also ample legroom, according to some taller buyers we heard from. Previous buyers over 6 feet in height said this was one of the best choices for tall people. We can't attest to that personally, but suffice it to say that height shouldn't be an issue!
The seat is one of the best things about this model. It's Pescador's "Pro" component, and is significantly better than any factory-standard seat we've encountered before! It's supportive, cushioned, and as adjustable as you could want!
Cons:
The one real flaw of the Pescador 12 is the overall weight of the vessel. If you're not particularly strong, it can be difficult to manage alone. Smaller individuals may have to enlist the help of a friend to carry this kayak. That weight factor has a lot to do with the stability of the boat, but it can certainly make portage a bit less convenient.
This is inexpensive for what it is, but there are certainly cheaper vessels on the market. If you know you'll be sticking to calmer waters, you could save a lot of money by going for the Sun Dolphin below.
2. Sun Dolphin Aruba 10
Quick take: An inexpensive sit-in kayak with a lot of bang for your buck.
Though all kayaks are fun to use, "recreational" kayaks occupy a special class of their own, and make up the largest group of kayaks sold. Recreational kayaks are generally designed for flatwater—either lakes or slow moving rivers.
Our top pick for beginning recreational kayakers is the Sun Dolphin Aruba 10. This inexpensive kayak is currently one of the most popular models among new paddlers, and earns high ratings across the Internet. We think it's a steal, and offers loads of value.
For the price, the Sun Dolphin Aruba 10 is one of the best recreational kayaks around. Though more ambitious beginners may soon outgrow this kayak, it's a great starter model for leisurely weekends on the lake or river! And if you're content to stick to calm rivers and lakes, this is much more affordable than the Pescador.
Pros:
It's extremely affordable. This one costs half as much as the Pescador, so it should be accessible to any buyer. Although there are certainly kayaks that deliver better performance, the Aruba offers a whole lot of quality for a very low price.
For novice kayakers eager to get out on the water, the Aruba is a solid model with a gentle learning curve. It has reliable tracking and a good balance. While it's not as stable as the Pescador for rough conditions, it's ideal for beginners learning on a smooth lake or relatively calm river.
Overall, it's one of the best casual recreational models out there. It strikes an excellent balance of affordability, quality, and user-friendliness. Within its limitations, it's very impressive.
The Aruba is also easy to transport. It's lightweight enough that a single person can carry it, and compact enough to carry around in the bed of a truck or on the top of a small car. That's a big advantage over the Pescador, which is more than 20 pounds heavier.
Most people will find it fits easily in their pickups or SUV's. That means you don't have to buy an external rack or hauling system. You'll save some extra money, and have a much more convenient experience overall. After all, most casual boaters don't have dedicated equipment.
To get a better sense of it, here are some specs: the Aruba 10 is a 10-foot kayak with a width of 30 inches. It weighs 40 pounds and has a carrying capacity of 250 pounds. The hull is made of a durable high-density polyethylene, and the shape is ideal both for tracking and maneuverability.
It's very easy to get into, and it has all the basic amenities you expect in a recreational vessel. The cockpit of the Aruba is an open design for easy entrance and exit. There is a padded backrest, a water bottle holder, and a storage compartment.
The design of the Aruba's hull is one of the primary reasons it's so beginner-friendly. The wider body and flat bottom of the Aruba makes for a stable ride, while the short length makes it easy to turn. The narrow bow and stern and light weight of the boat give it a solid tracking ability, and the durable hull material is more forgiving of beginner mistakes.
It's perfect for easy lake paddling in mild or slightly windy conditions. You can take one of these on a river, too, as long as you're not going to hit any whitewater patches. We're especially impressed with the responsiveness of the design for something so inexpensive. A lot of other budget boats are unwieldy, but not this one!
Paddling the Aruba is a comfortable ride thanks to an open cockpit and plenty of legroom.The adjustable backrest is a nice feature for kayakers with back problems, too. It's especially impressive given the compact design and the price class. We've seen far more expensive models with a less comfortable seating area.
Cons:
The Aruba 10 is a great starter kayak, but dedicated kayakers may eventually want to upgrade. The design is only suited for lakes and slow rivers, while more ambitous kayakers may want to branch out to more challenging bodies of water once they have built up some confidence. If you know you want to try a range of environments, you'll get more mileage out of the Pescador.
Another minor issue: the seat bottom is hard plastic, and there's no cushion included. Especially if you're planning a day on the water, you may want to purchase an extra cushion alongside this kayak.
3. Ocean Kayak Malibu Two
Quick take: A best-selling all-around kayak built for two.
Tandem kayaks—like tandem bicycles—are built for two (or more) people, and make for great bonding experiences with loved ones or close friends. If you're shopping for a beginner-friendly tandem kayak, we recommend checking out the Ocean Malibu Two.
The Ocean Malibu Two is one of the most popular sit-on-top kayaks around, and it has impressive stability and versatility on the water.
If you're not familiar with them, sit-on-top kayaks are those models without the top half of the kayak that covers the lower body. They're extremely stable, which is why they're so good for beginners.
This one is by far the easiest tandem to start out on. It's virtually impossible to flip, and is roomy enough for two people to sit comfortably. We also suggest it because it works perfectly well as a single-paddler vessel, so you can get even more value from it!
Pros:
The specs: the Malibu Two is 12 feet long and 34 inches wide, with a weight of 57 pounds and 375-425 lbs. maximum capacity.
While popularity doesn't necessarily indicate quality, it does in this case! Malibu bills this kayak as the most popular model in its class and area. We can't speak to that, but we do know that this is a best-selling and highly-rated tandem kayak among recreational kayakers. This is one of those vessels that owners swear by, and come back to their reviews to keep raving about years later.
It's stable and responsive, like the best sit-on-top models. This is one of our all-time favorite vessels, not just for beginners. It's just that in this case, the impressive stability and nimble turns come in handy when you're new to paddling! The Malibu Two responds easily, but it's also forgiving.
This is a tandem you can take anywhere.  It performs equally well in bays, lakes, and rivers without any threat of tipping over. This is also a full-fledged ocean vessel! You can take the Malibu Two out into the surf if you have access to the coast. It's one of the safest craft you can take on the seas! So, you have lots of room to grow.
It's roomy and flexible in the seating department. There are two dedicated seats, at the stern and the middle of the vessel. There's also a smaller third seat at the prow, which is perfect for a child or a dog. There's lots of room for paddlers to stretch out, and the seats are quite comfortable.
The reason this is one of our favorite tandems is that it can be piloted by a single person from the center seat if your partner has to take a sick day. That's technically true of some other models, but they're very unwieldy with just one set of paddles. This one actually handles remarkably easily with one person!
We're also big fans of the overlapping, ridged footwells in Ocean Kayak vessels. They give you plenty of options for where to set your feet. Not only does that make things comfortable for users with different heights, but it gives you some options to shift around during longer jaunts.
It comes with two "comfort plus" seating cushions for the adult-sized stern and center seats. It also features straps for attaching a small amount of gear. We actually recommend these seats as standalone gear, so we have no complaints here! They definitely add to the value factor, especially when you consider how many don't come with seats at all.
Despite the fact that it seats more passengers, it only costs slightly more than the Pescador. For one of the best tandems on the market, this is very easy on newcomers' wallets.
It's a sound investment. You won't have to argue about who made a poor purchase decision with this one! The body of this kayak is very durable, and many owners tell us that they have owned the Malibu Two for many years. After years of scraping on sand, rocks and other hidden hazards, the hull of the Malibu has stayed intact.
Cons:
The Malibu Two is a heavy kayak, at nearly 60 pounds. It can be difficult for a single person to maneuver this tandem kayak onto the top of a car.
Additionally, the Malibu Two's weight and wide shape makes it primarily a "family fun" kayak. Like most sit-on-top models, it's great for leisurely weekends, but this kayak will not be winning you any races.
As a sit-on-top kayak, the Malibu Two is better suited for warmer weather, since paddlers are going to get wet. If you're looking for a kayak to use in colder climates, you should consider a sit-in model. Check out our complete guide to tandems for recommendations!
Assuming you use all three seats/berths, the Malibu Two doesn't provide much storage area, so it's not well-suited for longer trips. On the other hand, if there are only two of you, you'll have a decent nook at the prow for gear.
Best Beginner Kayaks for 2020 – Summary
Which Beginner Kayak is Perfect for You?
There are many great kayaks for beginners, and the best one for you depends on what you intend to use it for.
If you're looking for a great fishing kayak for beginners, or simply an all-purpose vessel to go anywhere, we strongly recommend the Perception Pescador Pro 12. This less expensive rebrand of a high-end kayak allows novice paddlers to experience a higher degree of quality than is usually available for this price. With lots of cargo space, great tracking, stability and maneuverability, the Pescador is a top-grade kayak at a bargain price.
For solo recreational paddling, the best kayak for beginners is the Sun Dolphin Aruba 10. This stable and maneuverable kayak is one of the best bargains around. While it can't handle anything particularly rough, it's a weekend leisure-seeker's dream. If all you want is to paddle lakes and placid rivers,  the Aruba 10 is worth a look.
Tandem paddlers should check out the Ocean Malibu Two, a versatile, sturdy and stable recreational sit-on-top kayak. Equally at home in rivers, lakes and ocean bays, the Malibu Two offers a world of adventure for you and a friend, at an entry-level price.
There are also the inflatable kayaks from Sea Eagle to consider.
Buying Guide
Here are a few questions to ask yourself when you're shopping for your first boat:
Where do you want to be paddling? At sea? On lakes? Along rivers? All of the above?
How will you be transporting your vessel? Do you have a dedicated space by the water, or will you be hauling it each time you set out?
How much storage do you want? Are you taking picnic lunches, or keeping things light?
Are you planning to fish while you're on the water?
Will you be going alone, or bringing a partner? How about a dog?
What's Next?
Still deciding which kayak is perfect for you? Check out the Amazon best sellers page to see additional popular kayaks or visit https://bestkayaks.reviews/